ALUMNI Event 2023: Looking Ahead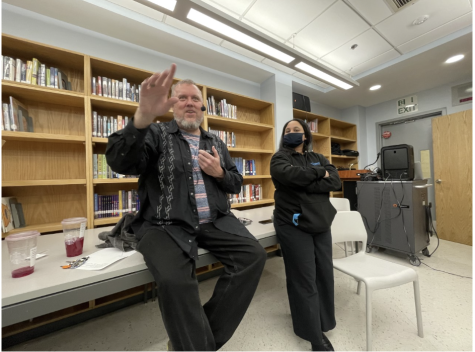 This year an alumni conference was held in Liberty High School where they spoke about their post high school life to our seniors on January 23, 2023. 9 alumni came to the event that was held at the library where there was food and drinks. The purpose was to get our 11th and 12th graders to think about life after high school and to give them an opportunity to ask questions/advice about post high school life. Our students got to learn about what students who graduated are up to now.  Our students learned a lot about the alumni experience, which can help them to choose their path after high school or prepare them for college experience.
This is the list of alumni who came:
Abdulfazi

l:  studying business management at Buffalo University.

Abbos

:  a personal trainer/entrepreneur who is going to college part time at Baruch.

Yahya

:  a pilot at Newark Airport

Eilyn

: studying for a mayor in psychology at City College

Amadoury

: an  assistant of education

Mamadou

: studying Education in History at Hunter College

Claudia:  studying medicine in medical school
Madou

:  finishing his last semester at BMCC

Babacar:

working as a paralegal in the District Attorney's office and studying at John Jay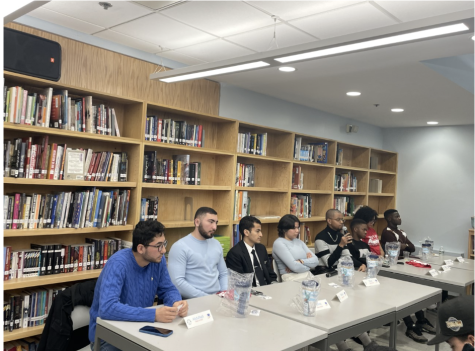 Students got the chance to ask questions to the alumni to find out more about what to expect in their future and about the possibilities out there in the real world.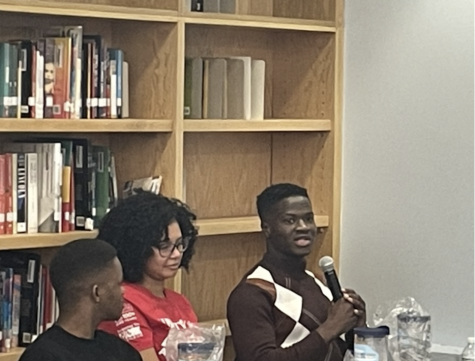 After graduating, why did you take the decision to go to Buffalo?  
Abdulfazil: I think it was the best decision that I took. Also, Miss Epstein helped me and pushed me a lot. You grow really fast, you have a lot of responsibility, you don't depend on your parents anymore, I think SUNY is better than CUNY because you concentrate better on your studies, from things that distract you from your studies. Tuition is 30 thousand dollars but I only pay 2-3 thousand dollars because of financial aid and a small scholarship. 
How do you navigate college and work?  
Abbos: I'm in my last semester, I wanted to pursue my career. I like the fitness stuff. Also we are immigrants so I have to work, I have bills to pay, and I really tried to focus completely in college, but it is also really hard, so I decided to go to study part time, it give me time to study and to work in the gym as personal trainer. 
How did you guys pay for college? 
Ammadoury: It is something really stressful, make the college office your new best friend, there they are going to  help you with all the information that you need, a variety of financial options, most colleges you have to pay but there's scholarships for everything, you just have to look for them. Literally you have to go for it because you're competing for them with a lot of people that want that same college and scholarship. 
Claudia: Government money, your money, scholarship money, school money.  You should divide the money into these parts, you have to figure out how to work with the different incomes of money that you have. 
Ms. Epstein: If you're undocumented you can still get scholarship and government money, even though you don't have social security you can have the chance to get money to study.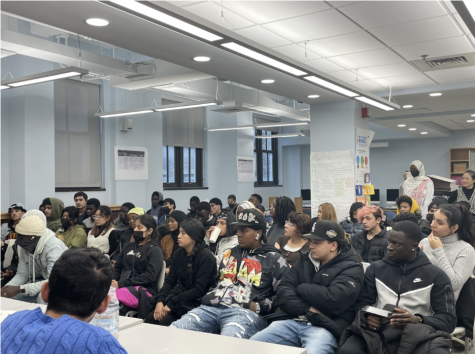 Teachers' feedback and comments about the event. 
Mr. D: It was good. Next time, students should come to the event with questions. Teachers should do a lesson the day before to get them thinking about it!   
Mr. Judd: The great thing was that there was a lot of interaction between the students and alumni. Some exchanged contact information after the event. In general the students were engaged and not talking. Overall, they were into the conversation listening to what they had to say. I saw someone taking notes on paper.
Ms. Zhou: This event is great to show our current students about navigating life after high school.  There are a lot of uncertainties and it's so important to see the possibilities out there despite all that.  Also, it's incredible to see how successful my old students are! It's only been several semesters since their graduation and now they are out there in the world, making it!  To say I am proud doesn't even begin to describe it.  
Ms. Canney:  I thought it was really cool because there were a huge variety of careers after High School. It helps them be creative. From the military, to someone who worked as a gym manager who is also starting his own business, to somebody in medical school.  For next time,  I would like to see small breakout groups by interest to ask questions.
Students' shared their thoughts about the conference. 
Mame Diarra Niaye, a senior who is about to graduate, says, "This was really interesting. They are helping us by giving us a lot of information about what to do, especially about financial aid. So many people have problems with that! They don't have papers and don't know that they have different options to help them pay for college!"
Jeferson Blanco, a senior, expresses, "College would be hard, but I learned that there are always resources to help. Do not be stressed or afraid; there are always people to help you."
Jolie Camara, learned that "You don't have to go straight to college. Life can be unpredictable. Things don't always go according to plan.  You have to learn to manage work and school at the same time."
Tenin Savane had some misconceptions about how easy it is going to be, "I thought you were free after you get into college, just me and my books. But actually, it's hard. I thought high school is hard and college is more simple than high school. But from what the alumni say, and how they were explaining, college is hard and you have to do your best."