Our Life With Cell phones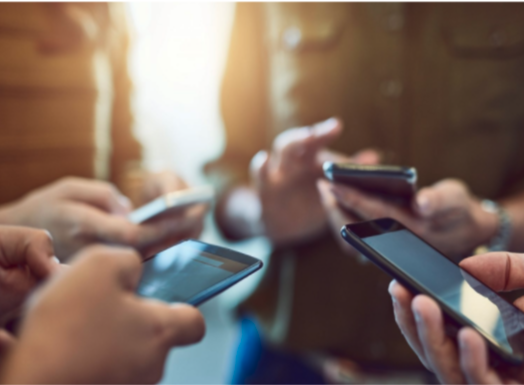 Nowadays most people around the world have a cell phone in their hand and they use it for many things or purposes during their daily life.
People use their cell phones to shop online, pay their bills, order food, apps to do exercise, communicate by call or message to their families or friends, look for information on the internet, entertainment, and play video games. Some people are asking themselves how the world would be without cell phones and trying to find the answer since everyone has their cell phones everywhere such as the street, the park, restaurants, or any public places around the city. We all know that cell phones are very important for us, for you because all that we need is there.
But how dangerous and addictive can cellphones be? "I use my cell phone at every moment, doing my personal things or watching a lot of funny content on the internet." said Yanet de la Cruz, Liberty High School Student. Some people are addicted to their cell phones which is dangerous because there are many accidents every time and everywhere. Unfortunately, some of them die because of cell phones. Sometimes they do dangerous things that put their lives at risk like silly challenges. Cell phones can be dangerous because there are people like hackers or bad people who can do damage through our mobile devices with threats if they do not do or give what the anonymous person asks for. "I'm not addicted to my cell phone but I don't want to find out," said Mr. Sheik Liberty High School Physical teacher.
There are people who are not addicted to their cell phones and some of them say that they can leave it anywhere but they recognize the importance of having the cellphones close by.
"One important function of cell phones is to help us in our daily life because we can do many things like communicating with our family, friends, watch movies, videos, play video games or search information on the internet." said a Liberty High School student graduate who didn't want to give his name. The thing about cell phones is that teenagers and adults make a lot of content on the internet and we can learn from them or watch what kind of content they are making to call our attention to the general public or a specific group of people. "Communicating with my family on Camera is very important for me." said Mr. Sheik, Liberty High School Physical Teacher." Many people agree that cell phones or any device that has a camera are very necessary to communicate with their loved ones as family or friends. One example is when the Coronavirus pandemic (COVID-19) began to affect us so it was necessary to use our devices to communicate with everyone in school for students and people who work in any companies. "I use my cell phone for any emergency that can happen at any time and also be connected with my family." said Yanet De la Cruz a Liberty High School Student. Many people agree that the cell phone is very important because thanks to cell phones we can communicate with any emergency service if something happens to us or anybody that we know and in this way save lives. Also thanks to cell phones we can communicate with our loved ones to see if they are fine.
Cell phones and technology in general, are essential and very important tools to our life because thanks to them we can do a lot many things that years ago it could not or was impossible to do but now with modern technology including cell phones, we can make our life much easier.