National Honor Society Hosts Winter Event
The National Honor Society(NHS) held a Winter Club event on December 20th 2022 and January 17th, 2023 to welcome new students to Liberty High School. We held this event because we want to make the new students feel comfortable and welcome them to the school. By holding these events, we hope the students feel like they are a part of our school family. For these winter events, we created a friendly environment. The students actively participated in games and they got to make new friends and learn about the National Honor Society.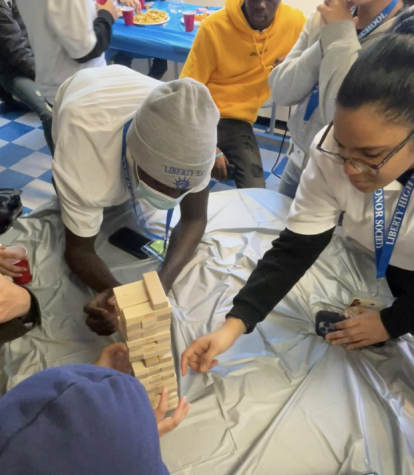 We prepared posters in 4 different languages such as English, Arabic, Spanish and French so that it will be easy for students to understand. Some of the NHS members went to classes to invite the students and get to know them. We started the event afterschool and many students showed up. This was a great achievement for the NHS students! During the Winter event, we introduced ourselves and assured them that they can reach out to the NHS members if they need any help like a fellow friend. We also drew lottery tickets where we prepared small and sweet prizes like candy and water bottles. Two students won the candies and one student won the water bottle and they were super happy to receive it, like they won a real treasure. There were three tables: 1st station was for Jenga, 2nd station was for UNO and 3rd was for charades. Also, snacks and beverages were available.
With charades, the students were divided into two groups. Then, everyone became so intense when they were guessing the activities presented by the other students. We were all laughing, having fun making new friends and just enjoying the moment together. We played music where everyone got to choose their song and most importantly we got to know different music tastes and styles. We were able to enjoy the time and get to know each other.