Qatar Fifa World Cup 2022
The world cup is Taking place quadrennially, the FIFA Men's World Cup  sees 32 nations compete against each other for the prize. With continental qualification pathways leading to an exciting finals event, it brings fans together around the passion and love for the game.
The 2022 World Cup is taking place in Qatar in the winter from November 20 to December 18. It will be the 22nd edition. This edition will be the first tournament hosted in the Middle East and the first to be at the end of the calendar year. Lusail will host 10 world cup matches including the final because it is the biggest stadium in Qatar.
Barra Ndiaye is a soccer player of Liberty High School team,  who really liked watching the world cup since he was child and explained to us how Qatar won the vote to organize the world cup. He said,"Qatar will host the world cup 2022 because they received the most votes to organize it by winning against the USA. This world cup will be great because all nations have good teams but I think  Brazil is the favorite country to win since the draw came out, and Argentina is one the favorites too because they played 36 games without having a defeat. Like Barra said Qatar earns hosting the world cup of 2022, so it's a great honor for the middle east to win this and also to host this championship.
Another student named Khadim Faye's prediction about a game before it comes said that "Abdulrahaman will be one of the 36 referees to play the first game Qatar against Ecuador. They will take care of all of the games they take part in because a little mistake can make them suspended for the rest of the world cup.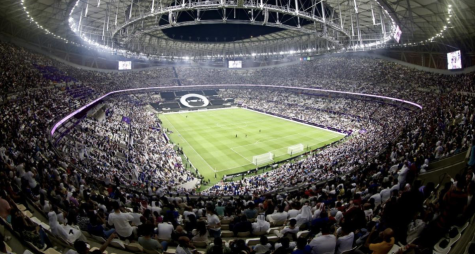 The coach of our team, Omar Beye described to us how Qatar prepared their stadium. He said that "the stadium is designed by Foster + Partners in collaboration with structural engineers. The stadium has an 80,000-seat  and it uses solar power without a carbon footprint. Qatar 2022 will be at the end of year, Fifa tried to move it out of the tournament to be in July because of summer heat. 
The world  cup 2022 has 8 groups and 2 teams will qualify for each group and then Fifa will do another draw for the quarter final, semi final and final These two teams who win their game will qualify to the final. The whole world can't wait until November to support their teams.